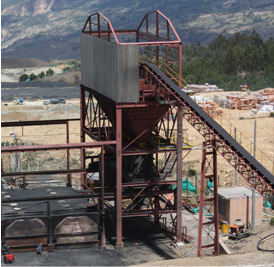 Bomar Colombia S.A.S. is the largest underground mining company in the Republic of Colombia. It started operations in the Colombian market in 2007 (previously known as Mineria Polaca S.A.S.).
The company provides mining services in the scope of planning and preparing mining operations, managing the mechanical and technical aspects of coal mines, as well as machinery and equipment repairs. The company drilled a total of over 6 kilometres of underground galleries in Colombia.
Due to its Polish origins and experience, the business of Bomar Colombia S.A.S. is based on Polish technology. Together with Polish companies Bomar S.A., Vacat Sp. z o.o. and Budwak Sp. z o.o. (co-owners of the company), the company supplies complete machinery solutions for specific projects and sells equipment for coal, gold and emerald mining. The company has vast knowledge of the Colombian market and customers as well as the geological and mining conditions and is able to select the right equipment to fit the needs and technical conditions. Spanish-speaking employees: miners, mechanics and electricians are one of the main reasons for the company's presence in Latin America
Largest implemented mining projects:
Cúcuta (Inclinado 5 slope) – Contract for the development of a 300 m tunnel, with the inclination of 23 degrees.
Investor: COMPAÑÍA MINERA CERRO TASAJERO S.A.
Guacheta (CASA BLANCA tunnel) – 2500m of primary working.
Investor: MILPA S.A.
Socotá (La Primavera mine) – Complete surface and underground mine infrastructure, i.e. residential investments, workshop, machinery patio and over 200 m of galleries).
Investor: INVERCOAL S.A.
Amagá (San Fernando mine) – over 400 m of working.
Investor: Carbones San Fernando
Bomar Colombia S.A.S. offers the following services:
gallery and access tunnels drilling with Polish experts and state-of-the-art mining technologies,
complete mining operations according to the contract, technical specifications and the customer's economic ratios,
management of underground mines, service and maintenance of operations,
consulting, advice on mining planning and preparation,
selection and acquisition of equipment according to technological expectations and geological and mining conditions,
electric and mechanical repairs of machinery and equipment,
promotion and sales of Polish mining machines for surface and underground works,
and the following products:
drilling machines, i.e. AM50 roadheaders, loaders, pneumatic drills,
complete transportation systems, scraper chain conveyors, belt conveyors, pneumatic loaders, suspended monorails,
complete ventilation systems, i.e. main fans of own design and smaller axial fans, explosion proof and ordinary, KWLE/KIM type fans with suction and pressure air ducts of any diameter (depending on the fan size) and dust collectors,
all types of electrical equipment, such as mining cables, transformers, switches, innovative electrical cabinets of own design,
manual mining equipment, hydraulic and friction props, hydraulic pumps,
steel supports, i.e. arches of various profiles, square supports,
drilling equipment, i.e. drill bits, crowns, spare parts,
communications equipment, i.e. mining phones, complete signalling and communication systems,
measurement equipment, i.e. methane and coal dust meters,
"light" equipment, such as jacks, saws and spanners,
personal protection equipment, i.e. mining lamps and self-rescuers.