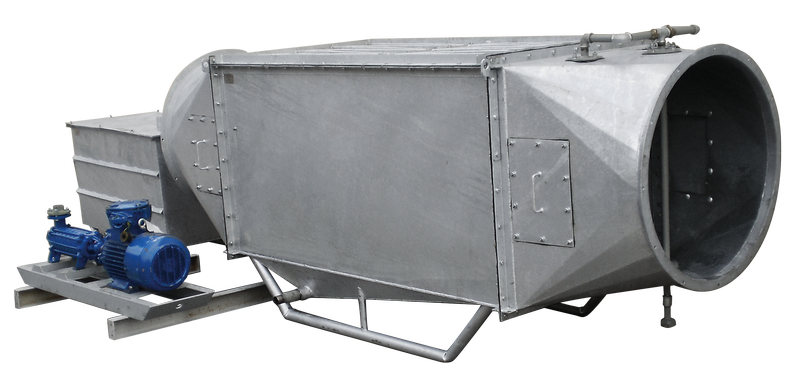 Wet type dust collector OMV-1000 is a stationery equipment allowing to eliminate coal, rock and mine dust from mine atmosphere using wet neutralization method. Usage of wet type dust collector significantly limits dust threat resulting from coal face winning. Furthermore wet type dust collector limits dust danger in the place of siftings, crusher plants, coal chambers, refuse storage chambers, tipping lorries, as well as in coal and ores preparation.
Technical specifications
Clamp diameter
Ø 1000


(reduction to Ø 800 or from Ø 1200)

Air flow capacity
600 - 750m3/min
Scope of dust removal effectiveness
96 - 98%
Pressure drop at nominal capacity
250Pa
Pressurized water atomizing
25 nozzles (e.g. G243 ver. B)
Required atomizing pressure
1,0MPa
Required water quantity
0,75l/s
Installed power
do 11kW
Sedimentary tank capacit
450-600dm3
Permissible flow part axial inclination
15°
This product was manufactured in accordance with the procedures laid down under the Quality Management System ISO 9001 and PN-N-18001:2004 certified by Bureau Veritas Certification.
Bureau Veritas Certification Certificate Number PL11000149/P