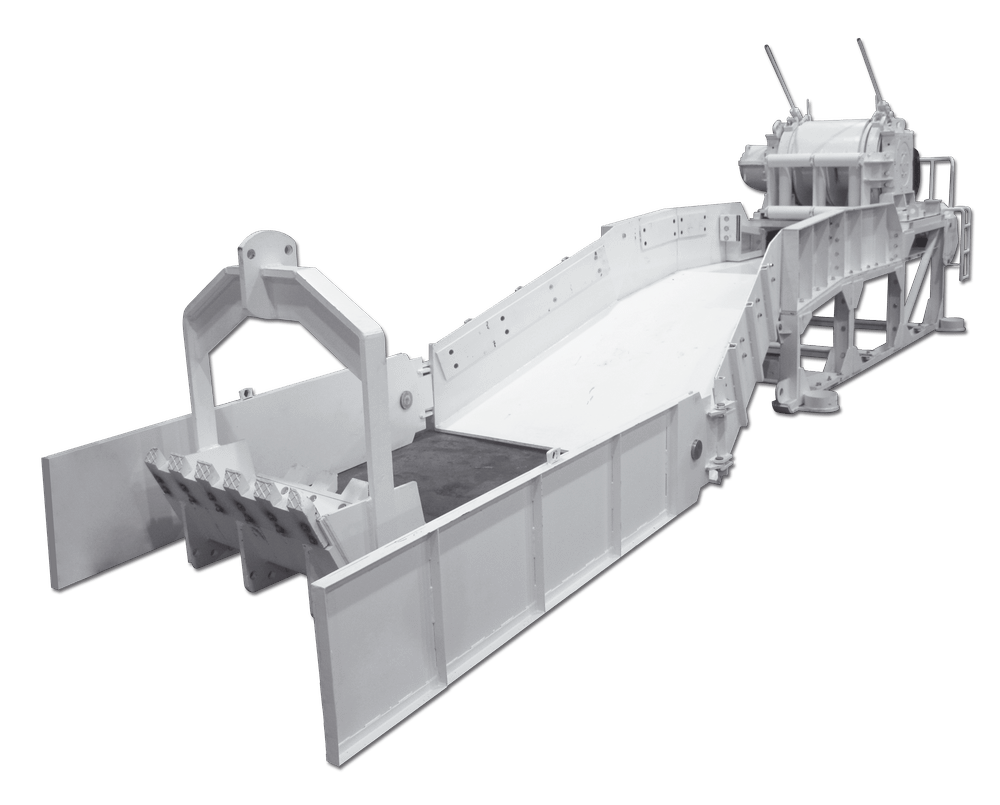 Scraper loader VT is designed to load output in coal, coal and rock as well as rock headings and in crosscuts, chambers, shaft bottoms, etc. The scraper loader is capable of loading the output on belt and scraper conveyors with turning station and track fitting under the discharge opening in the transfer platform (VT-800, PTG-800 belt conveyors, SKAT-60, GROT-67, VT-440/180 or other scraper conveyors). The scraper loader may be used in underground mines in the fields categorised as a, b or c class of methane explosion hazard as well as A or B class of coal dust explosion hazard. The scraper loader can operate in horizontal and inclined workings in the range allowing the use of compatible scraper and belt conveyors.
Technical specifications

| | |
| --- | --- |
| Efficiency (depending on scraping distance) | 60-100m3/h |
| Average scraper bucket pull speed | 1,2m/s |
| Average scraper bucket return speed | 1,5m/s |
| Scraper bucket capacity | 0,7m3 |
| Scraper bucket drawer | |
| Motor type | dSg 250M4-EP |
| Motor power | 55kW |
| Motor revolutions | 1500rpm |
| Rope diameter | Ø18 mm |
| Drum capacity | 180m |
| Loader dimensions (without drawer) length/width/height | 9080/2100/1624mm |
| Loader weight (without drawer) | 3300kg |
| Scraper bucket drawer dimensions length/width/height | 1590/1740/1140mm |
| Scraper bucket drawer weight | 3040kg |
This product was manufactured in accordance with the procedures laid down under the Quality Management System ISO 9001 and PN-N-18001:2004 certified by Bureau Veritas Certification.
Bureau Veritas Certification Certificate Number PL11000149/P